What Skills Make A Good Sports Coach?
A career in sports coaching is a fantastic vocation.  As a Sports Coach you will be involved in helping people develop their skills, confidence and reach their full potential.  You could work across various settings; in schools, colleges, sports clubs or even begin your own sports coaching business.
As a Sports Coach you will be connecting with people from all sorts of backgrounds, ages, and abilities; helping them improve their overall health, fitness, confidence and sports abilities.  You could also be involved with assisting disadvantaged or minority groups; guiding, mentoring and developing their skills in sport as well as communication and teamwork.
Sports coaching is more than teaching sport.  It's also about helping people to improve themselves so they feel great physically and believe in their skillset, as well as developing an appreciation of team spirit and shared goals.
For these reasons, a career in Sports Coaching is extremely valuable and worthwhile; it provides a significant contribution to your local community and to the field of sport in general.
A good Sports Coach is an important role for community cohesion and improving physical and mental health. The skills required to become a good Sports Coach are many and varied, and differ somewhat to those of a teacher.
Let's take a closer look at the skills required to make a good Sports Coach.
The Difference Between A Teacher And A Coach
There are a few stand-out differences between the job of a teacher and a Sports Coach:
Expertise
Teachers tend to have a general baseline level of knowledge and understanding.  This is useful to cover many types of sports and exercise across various ages.  Sports Coaches on the other hand have more specialised knowledge, and an expert level of understanding and experience around a specific sport.
Delivery
The delivery style of sport from a teacher is very formal; it's planned in advance and follows a predefined structure for students to follow.  Teachers also tend to act as a facilitator, giving general advice and tips for improvement.
A Sports Coach delivers sports sessions in an entirely different format; participants are carefully observed and responded to as needed in the moment.  The delivery is spontaneous and suited to the particular person they're working with.  The advice of a Sports Coach is specific to the needs and requirements of the sport.  Detailed instructions are given to advance individual skill and ability.
Objectives
The purpose of the two roles differ too.  Teachers provide a textbook style sports session that must suit a group of people with a range of skills. The aim is to introduce new knowledge, skills and encourage the group to work well together.  A teacher needs to guide students to cooperate and assist one another with personal progression.  Achievements are recognised through grades or levels.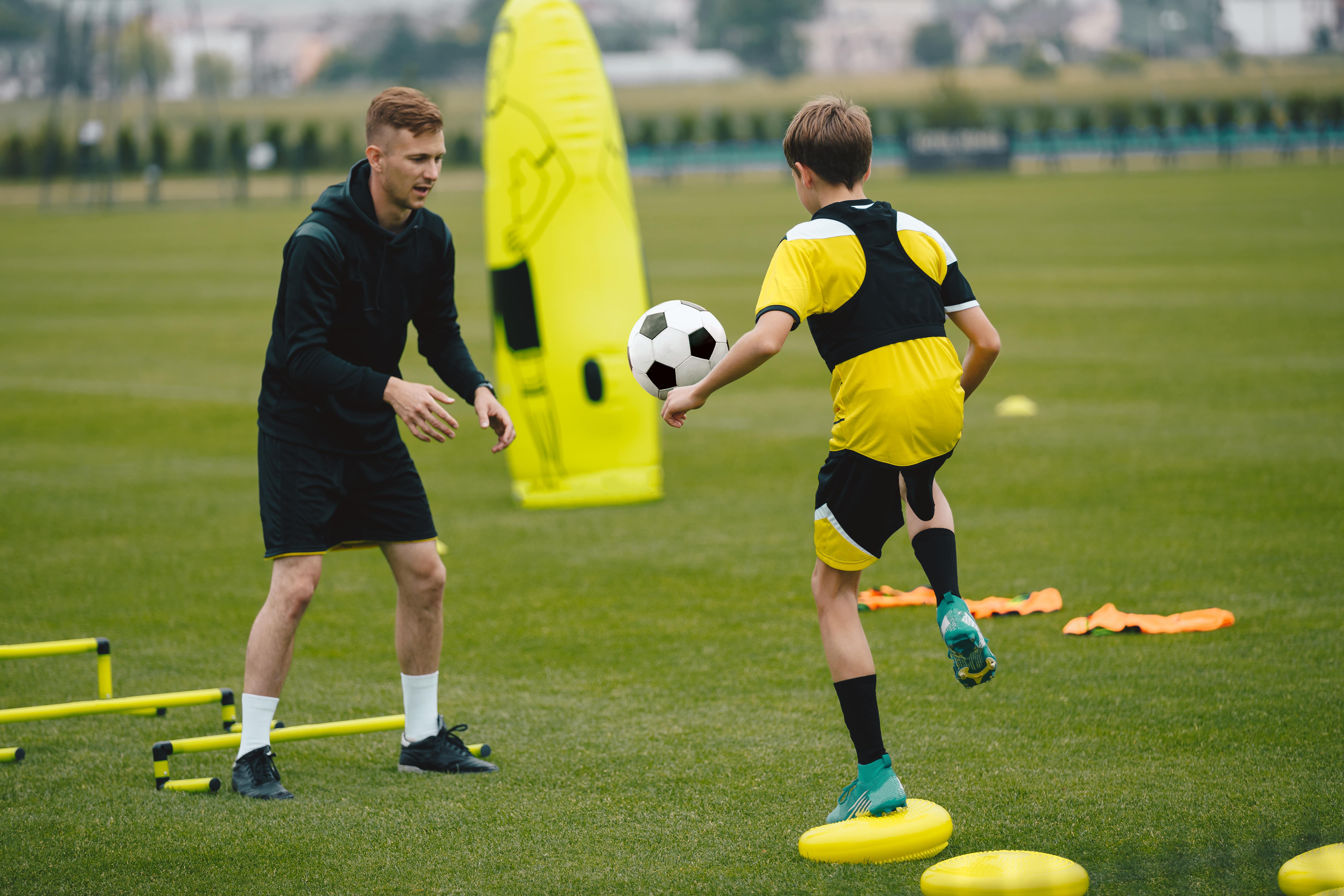 Get qualified to work in schools teaching sports
Study towards the Level 3 NVQ Diploma in Supporting the Delivery of PE & School Sport. The approved qualification to become a School Sports Specialist.
Whereas a Sports Coach works with clients in groups or on a one-to-one basis, with a personalised approach that aims to enhance the qualities and skills the client already possesses.  A Sports Coach acts as a personal mentor, and progression is witnessed and experienced by reaching personal goals or through outcomes of competitions.
The differences between a sports teacher and a Sports Coach are few but significant.  A Sports Coach must be able to provide expert and specific instructions, respond to the personal needs of the client, and the outcomes are realised through real world settings such as competitions.
Now that we have an understanding of the differences between a sports teacher and a Sports Coach, let's consider the details of the Sports Coach role, and the skills required to proficiently fulfil it.
The Role And Skills Of A Sports Coach
A Sports Coach role has many components, from planning and delivering a sports program to liaising with physiotherapists and doctors; the job profile is varied and diverse.  To be a good Sports Coach you will need to possess a variety of skill sets:
Analytical
A good Sports Coach needs to be able to evaluate the performance of the people they're working with.  It's necessary to accurately assess where participants are at, identify their strengths and weaknesses, and pinpoint the personal areas of improvement to reach defined goals.
A Sports Coach needs to collect an array of information about the people they're working with through observation, monitoring and communication.  The information they gather must then be weighed up in consideration of goals and expert knowledge, to decide the best ways to enhance personal performance.  This information acts as a guide for Sports Coaches to implement a plan and program for their clients.
Strong Communicator
Sports Coaches deliver programs to help participants excel in their preferred sport and this requires specific instructions.
A Sports Coach needs to be able to give precise and accurate commands to help clients achieve the results they wish to see.  They need to get to the point quickly, provide valuable instruction in a concise manner, and be clear over noise and distractions.  Therefore it's vital that you can speak clearly, simply and with confidence, to be a competent Sports Coach.
The ability to communicate with a variety of people from many different backgrounds, along with professional partners such as nutritionists, physiotherapists or doctors is also critical to the role.  A confident, approachable and respectful manner will make all the difference when conversing with the many people a Sports Coach comes into contact with.
Personable
Friendliness and flexibility go a long way in helping a Sports Coach gain credibility.  It's essential that a Sports Coach can adapt to different people, their interests and abilities, as well as a variety of settings and expectations.
A Sports Coach needs to deliver honest constructive feedback to participants, yet remain encouraging and positive to help motivate them with their progress.
Organised
A successful Sports Coach works with many participants and provides a specialised program to suit each one.  They are required to accurately assess and monitor progress and keep track of achievements.
If you wish to be a successful Sports Coach, you will need to plan, implement and record information for a number of people.  You may also be involved in planning events or enrolling participants in competitions.  So organisational skills are a must, as Sports Coaches manage clients participation and all their related activities.
Leadership
Sports Coaches work with groups as well as individuals, so they must be able to adapt to the needs of the clients they're working with.  They may often manage large groups so it's essential they possess strong leadership skills; able to communicate with and direct multiple personalities and abilities, as well as manage the dynamics that come with group interactions.
It's also vital as part of the Sports Coach role to project manage; able to break targets down into achievable steps so that participants can incrementally progress towards outlined objectives, and the Sports Coach can more easily monitor and assess progress.
Professional
Professionality is crucial to becoming a creditable Sports Coach; they must be reliable, honest, and respectful in all their communications and interactions, since they represent their company or the organisation they work for, as well as the profession.
It's crucial that Sports Coaches also have expert knowledge and experience of the sport they're specialised in, as well as a comprehensive understanding of wider topics such as fitness, injury and sports psychology.
As part of their role Sports Coaches also need to adhere to a high standard of health and safety, such as ethical and legal obligations and safeguarding.
A fantastic way to obtain these professional skills and knowledge is to undertake a recognised qualification such as the NVQ Level 3 Diploma in Supporting the Delivery of Physical Education and School Sport.  This qualification is recognised as an industry standard qualification by the trade association for providers of sports and physical activity in schools and the wider community: The Compass Association, as well as having the support of CIMSPA, the Chartered Institute for the Management of Sport and Physical Activity.
Inspirational
Last but by no means least, a reputable Sports Coach must be inspirational.  They act as a role model for their business, sport, community and the individuals they mentor.
For people to trust a Sports Coach with their health, fitness and personal progression, they must consider them to be dependable, confident, experienced and sincere.  It's essential that a Sports Coach can demonstrate these character traits through their work and conduct in the community.
A skillful Sports Coach will also have the ability to encourage and motivate others, even when they feel defeated.  A good Sports Coach must be able to uplift and inspire others to keep going, even when they feel like giving up.
It's the job of a Sports Coach to help others believe in themselves, so they must have the wisdom and skill to boost self-confidence in those they train; this takes considerable personability.  A good Sports Coach should also be a fantastic role model; someone who practises what they teach and inspires through action as well as words.
Quality Character and Training
The skills required to be not only a good Sports Coach, but a successful and commendable one, can be summarised into quality character traits and training.
If you dream of becoming a Sports Coach yourself, you must be committed to your own development.  You should have fantastic communication skills, the ability to analyse information, be personable, organised and professional as well as possess leadership qualities.  Many of these skills can be developed through accredited qualifications and hands-on experience.
To be a good Sports Coach you will need to continue your professional development throughout your career, it's important that you never stop learning or improving upon yourself.  Aspire to be an inspirational role model, so you can encourage and guide others to realise their potential and achieve their goals too.
Related Resources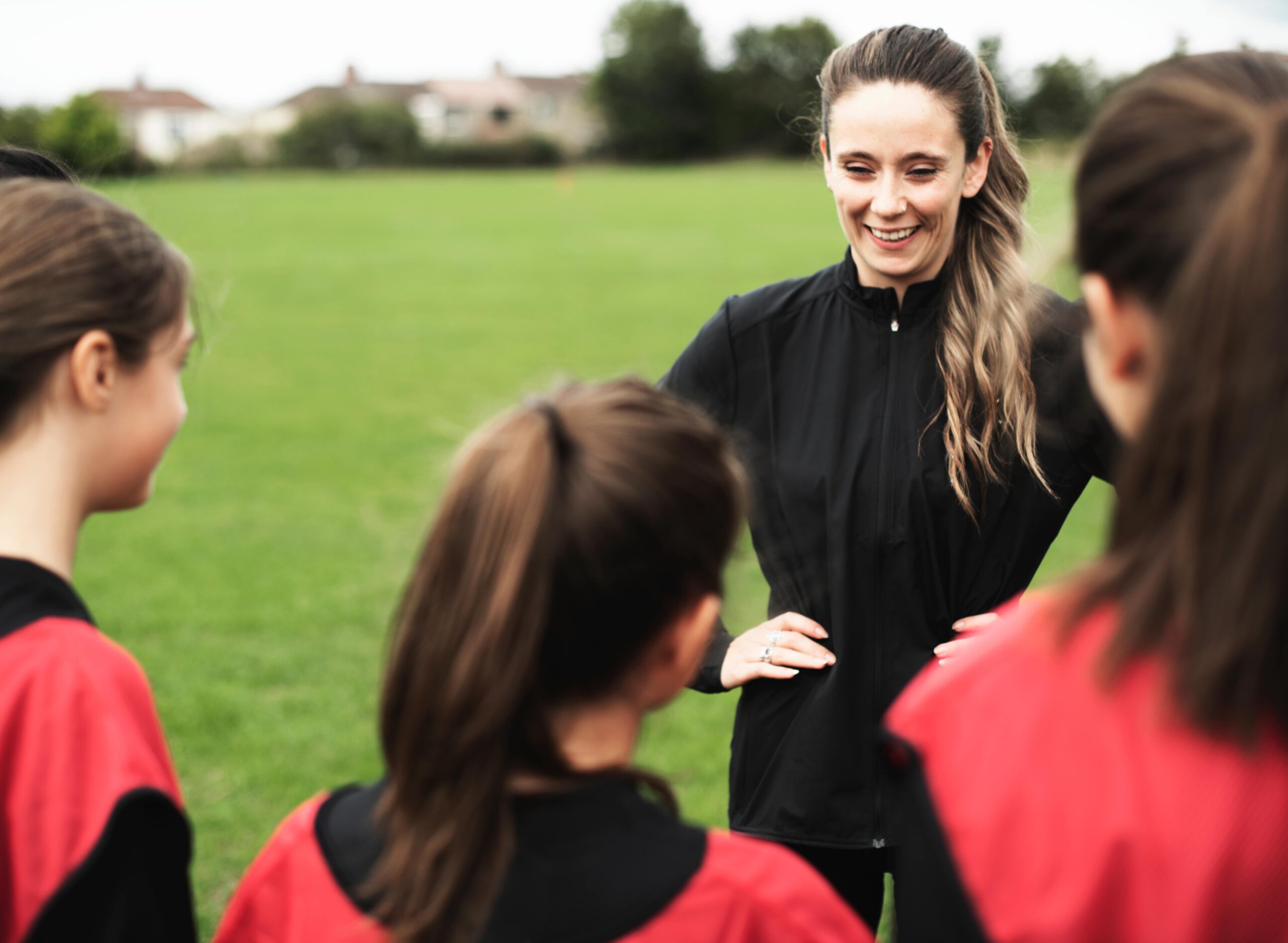 How To Find An Apprenticeship In Sports Coaching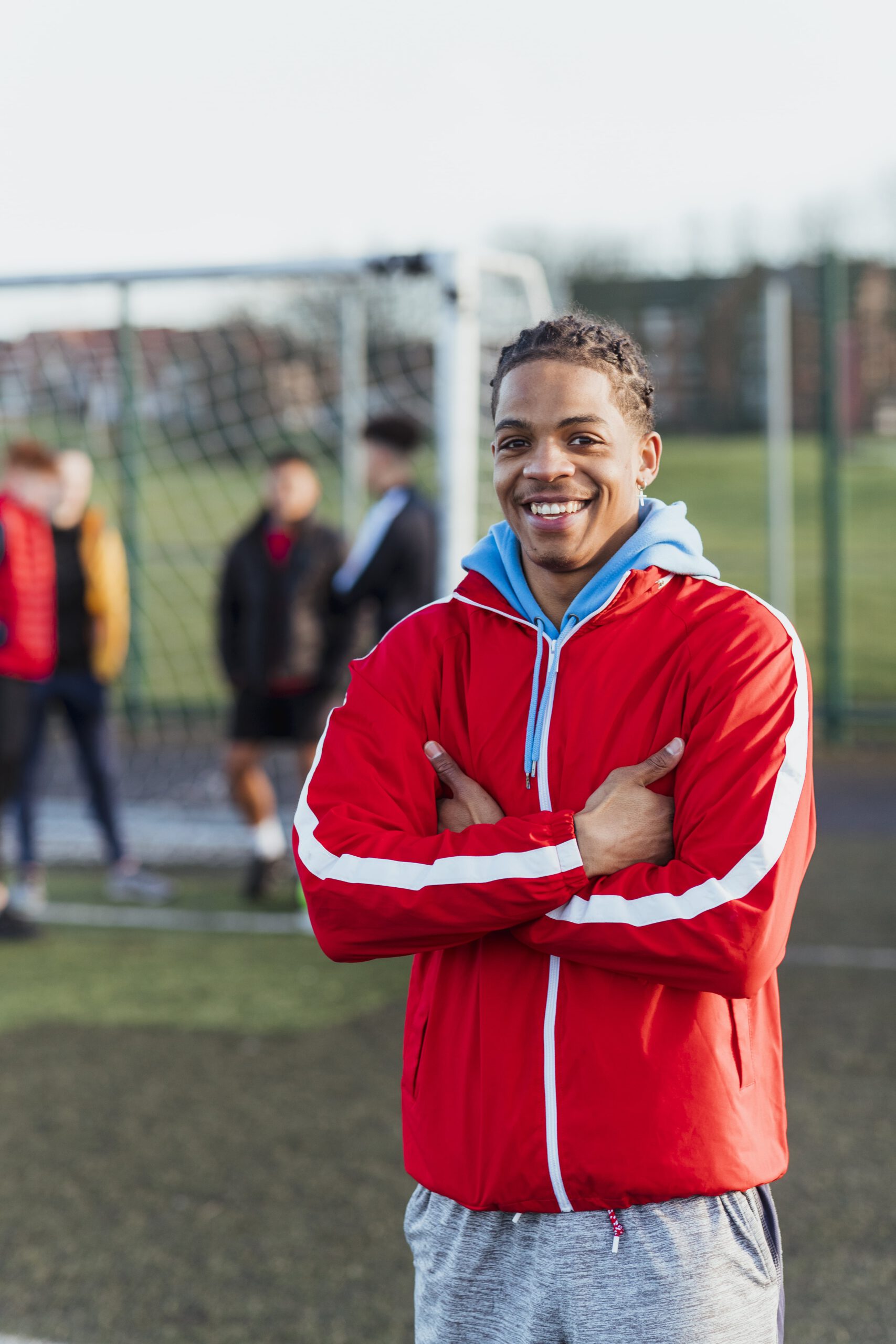 How To Become A P.E. Teacher Without Going To University
Train to work in schools coaching and teaching sport
A qualification that allows you to train whilst you earn and gives you the opportunity to work in primary schools teaching lots of different sports.
Learn more